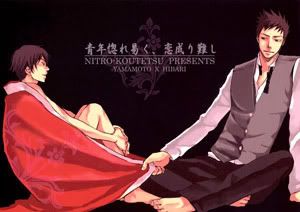 Although Yoneda Kou only has a few short works out to judge on, she is an excellent story teller as well as a brilliant artist. The characters and plot develop nicely and the emotions can really be felt (sob, so much angst).
The art is simple and smooth and just gorgeous. I COULD STARE AT IT ALL DAY *___*
She's also reknown for her Yamamoto/Hibari(Katekyo Hitman Reborn) doujins by her circle, Nitro Koutetsu.

- All works are in english
- Summaries shamelessly stolen from Baka-Updates, except for those that don't have any and I take out my pathetic summarising skills.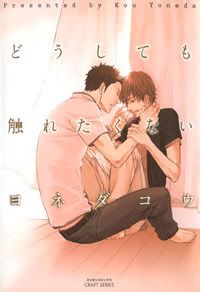 ♚ Doushitemo Furetakunai
(Eng: I Won't Touch You Anyway)
Scanlator: Dangerous Pleasure
Status: 1 volume + doujins | Scanlation incomplete
Genre: Drama, Romance, Yaoi
On the first day of Shima's new job, he met a man with a hangover in the elevator. That was his first meeting with his new boss, Togawa. Though Togawa seemed rude and crass, Shima was drawn to the kindness beneath his rough facade. Both men harbored a painful past, but unlike Togawa, who was open with his feelings, Shima seemed unable to move on. What will these awkward feelings bring about?
Preview: 1 2 3 4

Chapters 01-04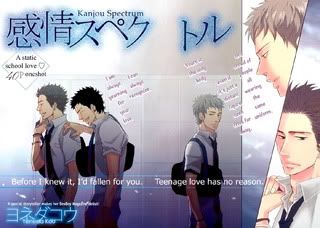 ♚ Kanjou Spectrum
Scanlator: Dangerous Pleasure
Genre: Romance, School Life, Shounen Ai
Status: Oneshot | Scanlation Complete
Kugou's best friend Nakaya is cheerful, lively, and just a bit hopeless, exactly the type who is popular with both boys and girls. So it comes as no surprise to Kugou when one day he catches Usui, a quiet, yet serious classmate staring at them as they pass by...
Preview: 1 2 3 4

Chapter 01




♚ Ore ni Koi Shite Dousunda
(Eng: Why Are You In Love With Me Anyway)
Scanlator: Vices and Devices, Jiyeun
Status: 4 Chapters - ongoing
Genre: Comedy, Drama, Romance, School Life, Yaoi
When his interior designer mom takes off to New York for a year, Toranosuke, he gets sent to stay with his uncle. And it's just his luck that Ryouji's obnoxious, violent, and has the same sharp tongue as Tora's mom. Only it turns out that he's not really that bad, and maybe Tora's falling in love (with his uncle, of all people), and Ryouji has a heart of gold underneath the bellowing and violence. Except that Ryouji's pretty much the worst guy in the world to fall for: he enjoys sex more than eating, has a commitment problem, and has long since convinced himself that he's really, really straight.
Preview: 1 2 3 4

Chapter 01 Chapter 02
Chapter 03
Chapter 04




♚ Don't Stay Gold
Scanlator: Dangerous Pleasure
Status: Oneshot | Scanlation Complete
Genre: Drama, Yaoi
A Yakuza boss really wants this "Mad Dog" fighter he found to work for him, but the "Mad Dog" isn't too keen on the idea, even though he owes a debt. After being injured and refusing to go with the boss, the "Mad Dog" winds up staying with the doctor for a few days. Will the "Mad Dog" give in to the boss to pay off his debt?
Preview: 1 2 3 4

Chapter 01

8018 Doujins
Unf, all of these doujins are gorgeous. She captures the relationship of the two have very nicely.



♚ G
Scanlator:
ladyphantomhive
Contains two stories, one each from Sagami Waka and Yoneda Kou, both centering around fantasies and masturbation.
Download

♚ Hinemosu Kimi ni Ubawareru
Scanlator:
new_treasures
A chance encounter leads to Hibari agreeing to answer Yamamoto's questions about his favorite things.
Download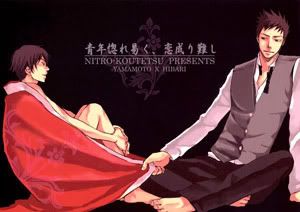 ♚ Seinen Horeyasuku, Koi Narigatashi
Scanlator: MirusMayhem
An Alternate Universe doujinshi set in the Taishou era: One day while browsing through a bookstore, Yamamoto meets Hibari, a beautiful young man who works as a Kagema (a male prositute)
Download
khgnjhg I love this one. AU's are my favourite ♥




♚ Harmful Compound
Scanlator:
ladyphantomhive
"Don't you think... it's not worth living if the world is this boring?" Hibari asks.
Download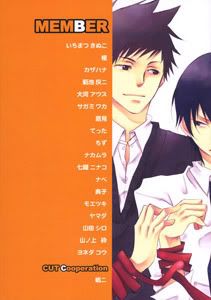 ♚ Scar
Scanlator:
ladyphantomhive
The scar on Yamamoto's back troubles Hibari
Download


If you have a minute to spare say 'thanks' to the scanlators! :D